The 5 Best Beach Sunglasses for 2021
The 5 Best Beach Sunglasses for 2021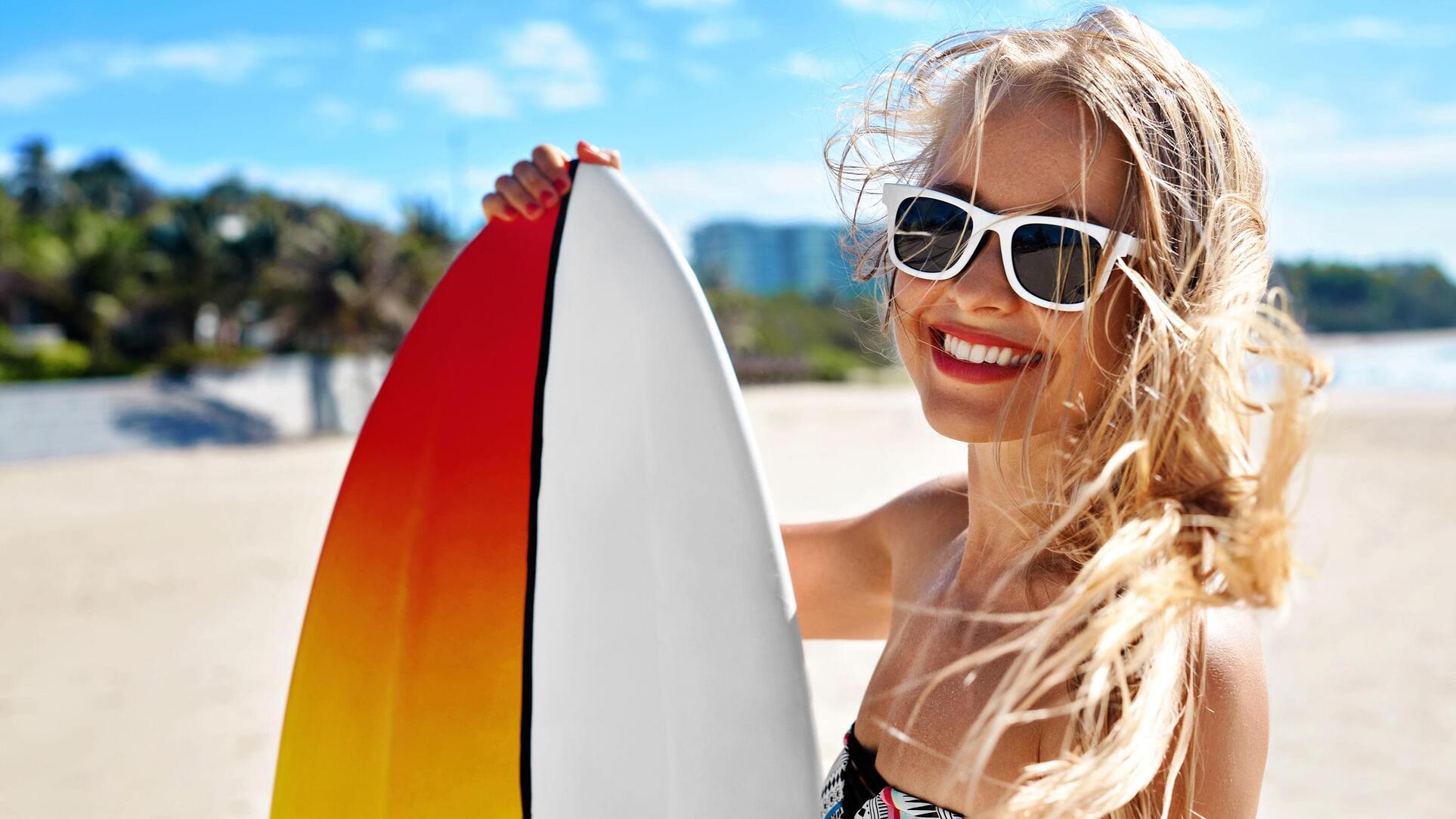 Summer is in full swing, and nothing compliments a hot beach getup like a new pair of sunglasses!
Beach sunglasses are functional and fashionable. You may want a pair of beach sunglasses to match your bathing suit, a pair that will keep your eyes completely comfortable under the sun, or the perfect mix of both!
Yesglasses offers many styles of beach sunglasses for men and women, all with free 100% UV400 (UVA & UVB) protection as well as free anti-reflective and anti-scratch coatings. Our sunglasses are durable, fashionable, and polarized. Take a look at our full selection to browse and compare, or consider our selection of top picks below!
Browse All Beach Sunglasses
How to Choose Beach Sunglasses?
When picking out your sunglasses for the beach, there are a few important features you should look for.
Polarization
Sunlight can get very harsh on the beach. Not only are you standing under direct sun, bodies of water reflect additional light. Polarized sunglasses are designed with lenses to counter horizontal wavelengths in the sun's rays. This allows vertical light to pass through your lens so that you can see clearly without the harsh effects of the sun's rays.
UVA/UVB Protection
The sun's rays fall on a dangerous light spectrum that can damage your eyes over time. To avoid eye health problems, such as macular degeneration, it's recommended to wear beach sunglasses with full UVA/UVB protection.
Lens Coverage
For the best eye coverage, wear beach sunglasses with wide lens coverage. The best beach sunglasses cover your eyes from above, below and the sides. If you find more narrow frames fit your style, be aware your eyes might feel uncomfortable on the beach with too much light passing around the edges of your frames.
Durability
Between sand and salt water, it's important your beach sunglasses can withstand the elements. Wear sunglasses with scratch resistant lenses and consider a frame material made of plastic or acetate. Even the highest quality metal frames can wear away when exposed to water.
Sunglasses in sand: If your sunglasses get sandy, carefully rinse away the sand with fresh water and use a microfiber cloth to gently dab dry. Sand very easily damages lenses, and it's important to prevent any chance of your lens scratching, even when they are scratch resistant. Keep your beach sunglasses in a pouch or case when not in use.
Sunglasses in salt water: If your sunglasses get wet from salt water, rinse with fresh water and dry them off with a towel. If any part of your beach sunglasses contain metal, such as the joints, make sure these areas are dry. Don't submerge your sunglasses, and make sure they're not stored in your pockets when you take a dip in the water!
5 Best Sunglasses for the Beach
Beach sunglass styles in this year include transparent frames, butterfly and cat eye frame shapes, unique aviator frame shapes, and of course, wide lens coverage. Don't forget to customize your sunglass frame design to match your beach style!
Yesglasses Sunglasses
Yesglasses offers a wide variety of beach sunglasses to choose from for men and women. We give our fans the ability to customize their eyewear down to the lens tint, lens features and frame features.
Have fun customizing your frames, and if you have any trouble picking out the perfect pair, we're here to help!
Browse All Beach Sunglasses