PD Measurement Online Tool
The Pupillary Distance (PD) is the distance between the centers of your pupils in each eye. This measurement is required to place prescription glasses orders. With this measurement we can ensure that the optical centers of your lenses are aligned correctly with your pupils to give maximum comfort and effectiveness. We highly recommend leaving this measurement to the experts! Follow our instructions below to measure your pupillary distance online with us.
Measure PD Now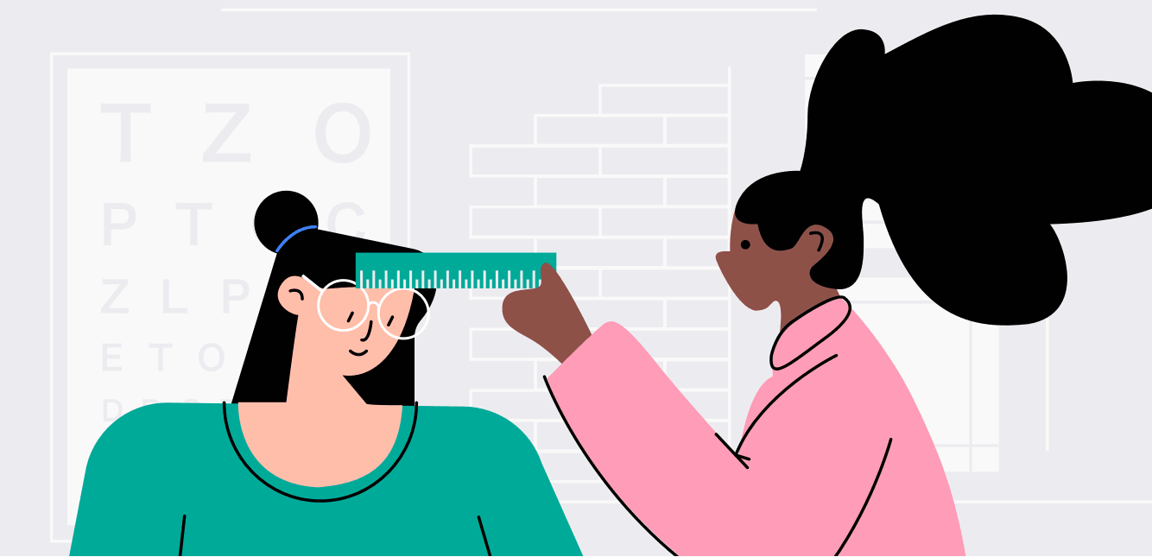 How to measure your PD online with a credit card
How to find your PD measurement with a ruler
Find a millimeter ruler and sit or stand in front of a mirror.
Look straight ahead and put the ruler in front of your nose.
Measure the distance between the centers of your two pupils.
Write down your PD value.
Repeat a couple of times for accuracy.
Customer Service
For any questions, contact us via:
FAQ to Measure Pupillary Distance
How do you measure PD for progressive lenses and bifocals?
For bifocal and progressive lenses, two PD values are needed. In these cases, Yesglasses recommends getting your PD directly from your eye care professional.
What is the average PD?
The average pupillary distance for adults is between 54 mm and 74 mm. The average pupillary distance for kids is 43-54.
How do you measure your PD by yourself?
You can measure your own PD with a ruler and a mirror. Be sure to note which eye you are measuring, read the ruler properly in your reflection, and take multiple measurements to check for accuracy. We highly recommend letting Yesglasses measure your PD for you!
Can I measure my PD with a webcam?
When choosing to use a webcam to take your picture, be sure you are in natural lighting and that your picture clearly shows your pupils. Follow our instructions to use a credit card for measuring the distance and send us your picture.
Does Yesglasses measure PD online for free?
Yes! Our online PD measurement tool is entirely free and even gives you access to discounts while shopping with us.
How do you measure your PD without a ruler?
An easy way to measure your PD is with a credit card. Follow our instructions to take a picture of yourself with a credit card. Then, submit your picture, and we'll do the rest!
How do I find my PD on my prescription?
In most cases, your optician will include your PD measurement in your prescription after the eye examination. If not, just ask for it! Your PD will be listed in a section separate from your eyes' prescription either as two numbers for each eye's distance from your nose bridge or a total number for the distance between your eyes. Give them a call if you're unsure, or email us your prescription and we will take a look for you!
Why Measure Your Pupillary Distance with Yesglasses?
Trust our eyewear experts to determine your PD. This measurement is essential to providing you with your correct prescription lenses.
When you measure your PD with Yesglasses, we will automatically update your order! You can continue shopping for your perfect pair of eyeglasses, and we'll make sure your order is accurate with the correct PD measurement.
NOTES
Please make sure you have removed your eyeglasses.
Put a credit card on your lips. (Or a card that has the same dimensions.)
The card should be straight up and down against your lips, not tilted.
Do not cover the edges of the card.
Look straight ahead when taking the picture.
Open your eyes so we can see your two pupils clearly.
Take the photo at arm's length.
Photo Received
Thank you for using our PD Measurement Tool!
Follow us on Facebook / Twitter / Instagram / YouTube, and we will send over your measurement in 2-3 business days.
Order your glasses now! Your PD measurements will automatically be updated to your order.
20% Off Your First Order
Use code TRY99777 at checkout