The Best Beach Sunglasses: How To Choose & Top Picks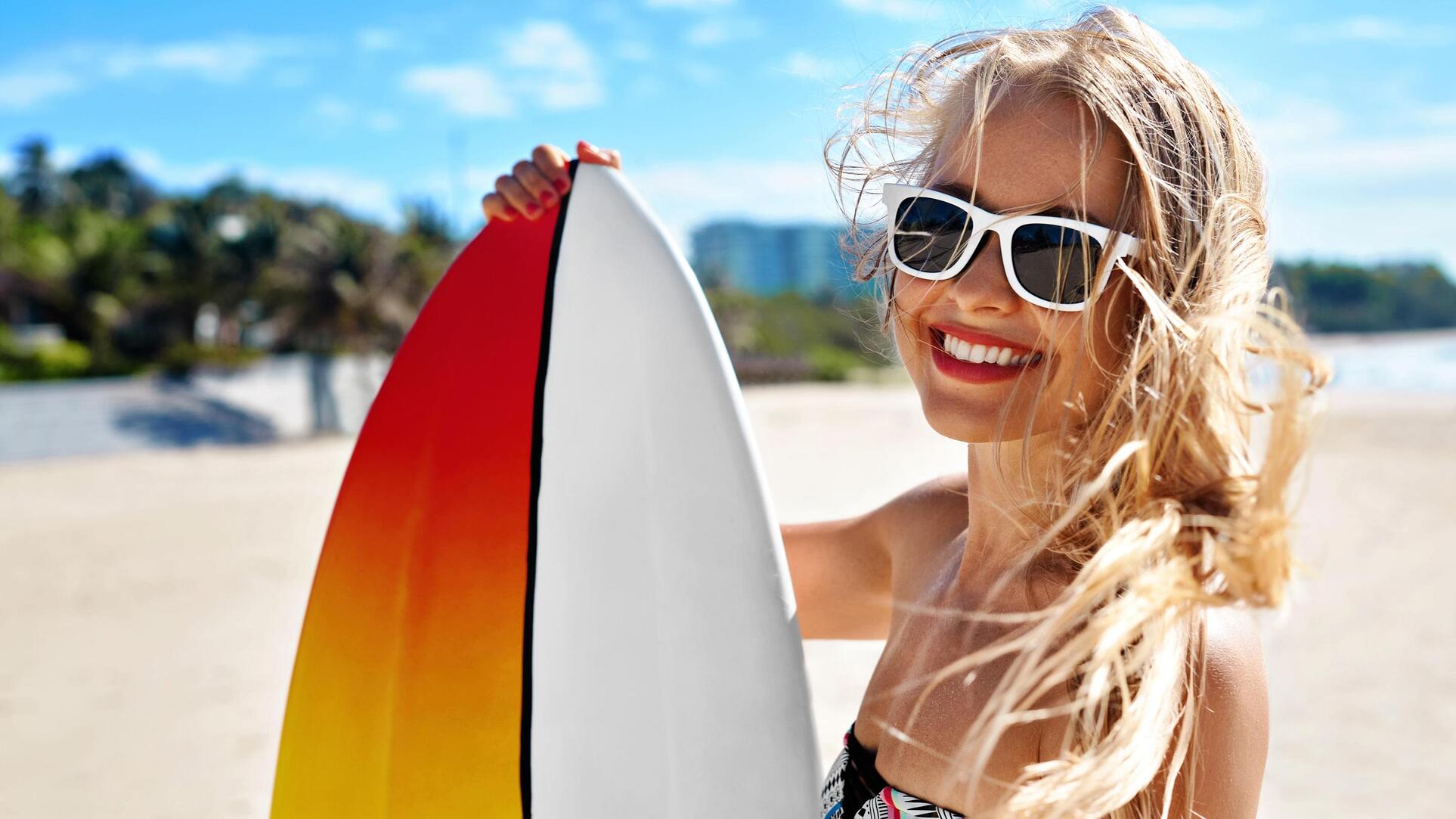 The Best Beach Sunglasses: How To Choose & Top Picks
When summer's in full swing, nothing beats a great pair of beach sunglasses. Both functional and fashionable, the best beach sunglasses will match your mood, personality, and sense of style while keeping your eyes safe and comfortable under the bright summer sun.
Whether you're buying beach sunglasses for the first time or just want to be sure you're getting the right pair for you, this guide is the perfect place to start.
What to look for when buying beach sunglasses?
There are five things to consider anytime you're shopping for beach sunglasses.
1. Polarization
Sunshine can be very harsh on the beach. Beyond direct sunlight, the ocean and other large bodies of water will reflect that light. If you've already got sunblock, a hat, and a beach umbrella, polarized sunglasses should be the last thing you need.
Polarized lenses are designed to counter horizontal wavelengths in the sun's rays. In short, this allows vertical light to pass through in a way that enables you to see clearly without feeling blinded, even on super bright days.
2. UVA/UVB Protection
The sun's rays fall on a dangerous light spectrum that can damage your eyes over time. To avoid eye health problems, such as macular degeneration, it's recommended to wear beach sunglasses with full UVA/UVB protection.
In case you're wondering, all our polarized sunglasses feature 100% UVA/UVB protection. Also known as UV 400 protection, this guards your eyes from the sun's UVA and UVB radiation waves.
3. Lens Coverage
For optimal eye coverage, choose beach sunglasses with wider, taller lenses. The best beach sunglasses cover your eyes from above, below, and the sides. Some may even wrap around your face.
If you find you still prefer narrow frames, that's totally fine! Just know that your eyes might feel uncomfortable when you're seaside, as excess light could shine in around the edges of your frames.
4. Durability
Between sand and salt water, it's ideal to buy sunglasses that can survive even the most adventurous and active beach trips. Make sure to pick up a pair of shades with scratch-resistant lenses and a frame material made from plastic or acetate.
While metal is awesome for its durability and comfy, lightweight feel, even the finest metal frames can wear away when exposed to salt water. If you do choose metal frames for your next beach excursion, make a point of keeping them dry.
At the end of the day, there are two elements you need to consider when buying beach sunglasses: sand and salt water.
What to do if my glasses get sand on them?
If your sunglasses get sandy, carefully rinse away the sand with clean, fresh water. Next, use a microfiber cloth to gently dab them dry.
Sand damages lenses easily, so keep it away from your shades to reduce the chances of scratched lenses. Scratch-resistant lenses will help but only so much. Always store your beach sunglasses in a pouch or case when not in use.
What to do if my glasses get wet from salt water?
If your sunglasses get wet from salt water, rinse them with fresh water and dry them off with a towel. If any part of your beach sunglasses contain metal, such as the joints, dry these areas thoroughly. Don't submerge your sunglasses!
You should always double check to make sure your sunglasses aren't stowed in your pockets when you take a dip in the water. Durability means nothing if they get swept into the sea.
5. Style
Perhaps the best part about buying new beach sunglasses is finding your favorite style. There are a lot of options, giving you plenty of freedom when picking the right pair for you.
Before you begin to browse, figure out your face shape. It only takes a minute and will help you home in on shades that will look great, suit your face, and fit comfortably.
After that, it's time to get shopping! To recap, you want:
Frames made from plastic or acetate.
Larger, wider frames for the best possible coverage.
Polarized lenses with UVA/UVB protection.
With that in mind, you can fit nearly any pair of Yesglasses frames with polarized lenses, making it simple to customize the perfect pair of beach sunglasses for your next day at the bay.
Shop All Polarized Sunglasses
What are the most popular beach sunglasses this summer?
Beach sunglass styles in this year include transparent frames, butterfly and cat-eye frame shapes, unique aviator frame shapes, and of course, anything else offering wider lens coverage.
If you'd like some recommendations to get you started, check out some of our most popular beach sunglass styles featuring polarized lenses.
Chaplin (Narrow Round)
Featuring a cool, classic look and undeniable retro styling, these shades are a great go-to if you want something that stands out from the crowd.
Sheldon (Oversized Square)
Anyone who says "perfect beach glasses don't exist" haven't seen these shades. Stylishly oversized, these plastic specs are perfect for both the land and sea.
Bloom (Oversized Round)
Chic frames made from plastic and metal, these sunglasses include oversized lenses to keep your eyes protected on the sunniest of sunny days.
Sparks (Cat-Eye)
Cat-eye frames that never seem to go out of style, these shades feature polarized lenses and a cool retro look that's perfect for any summer trip.
Lemon (Thin & Round)
Built for oversized lenses with all the coverage you need, these sleek plastic frames are both cool and eye-catching.
Bellion (Horn-Rimmed Round)
Made from transparent acetate, these beige, horn-rimmed glasses feature brown sunwear lenses built for the beach, the boardwalk, and anywhere else your vacation takes you.
90042 (Geometric Aviators)
If you insist on metal frames, the titanium 90042 aviator is a solid choice with great lens coverage and unmatched style.
17329 (Horn-Rimmed Square)
Acetate frames with a timeless, horn-rimmed look, these beach-ready sunglasses are practically made for a day on the beach or boardwalk.
Paradise (Classic Aviators)
Like 80060, Paradise is a lightweight, metal aviator featuring great coverage and an incredible aesthetic that's perfect for a day in the sun.
Live your best summer with beach-ready shades from Yesglasses!
Yesglasses offers a wide variety of prescription and non-prescription sunglasses. When you shop with us, you have the opportunity to personalize your eyewear down to the lens tint, coating, and frame styling.
All of our sunglasses boast 100% UV400 (UVA and UVB) protection. We even offer anti-reflective and anti-scratch coatings at no extra charge!
With a good pair of polarized sunglasses, you'll have no trouble making the most of your day on the water or the sand. Have fun customizing your frames, and if you have any trouble picking out the perfect pair, we're here to help!
Shop All Sunglasses
Taking a trip that doesn't involve the beach? See our picks for the best travel sunglasses.