Why Choose Yellow Sunglass Lenses & Yellow Tinted Glasses?
Why Choose Yellow Sunglass Lenses & Yellow Tinted Glasses?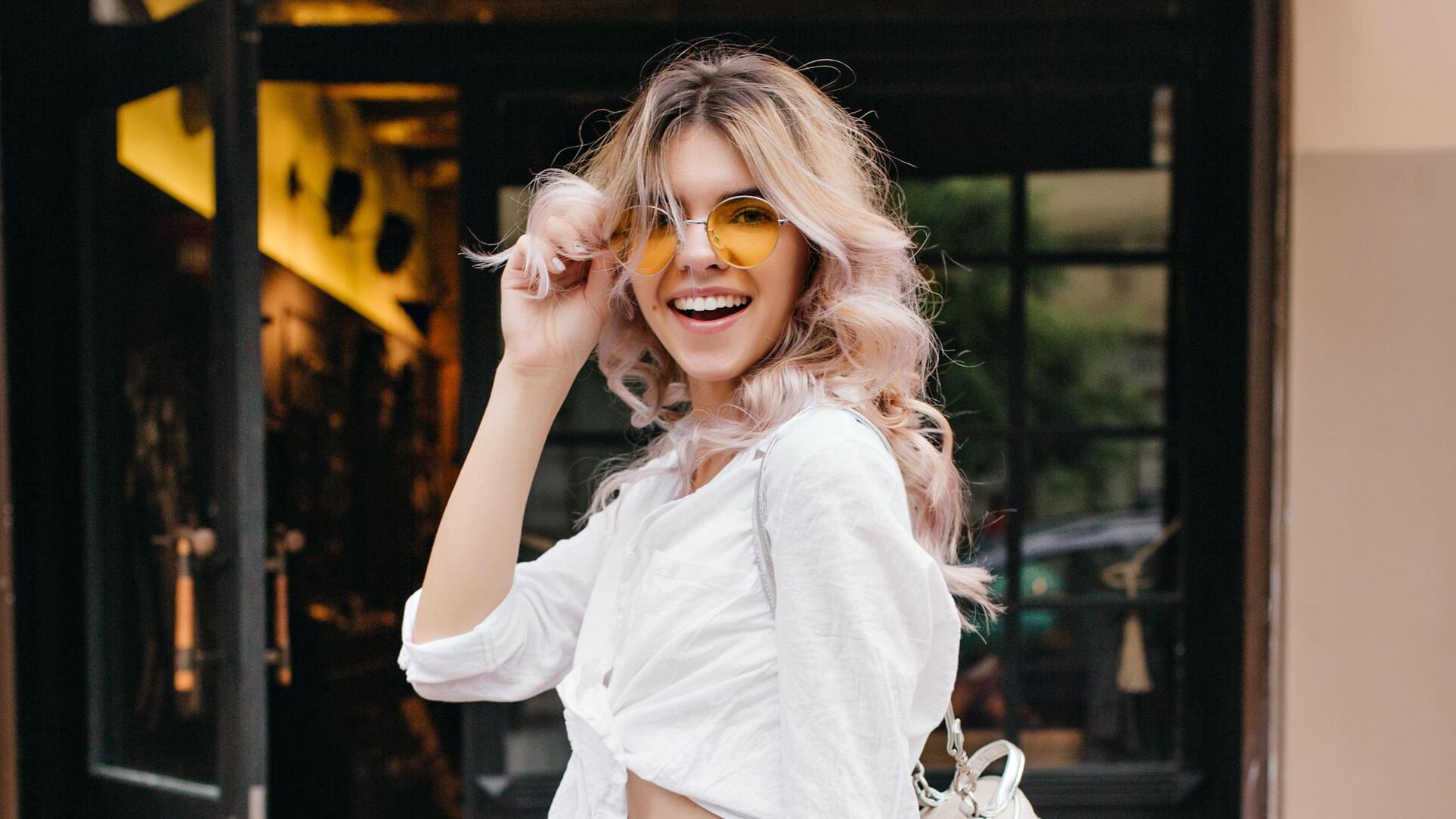 Yellow lenses have a lot to offer beyond just looking fabulous in tinted sunglasses. There is so much to consider when it comes to picking out sunglass lens tints, and did you know the decision could end up benefiting your health?
Yesglasses offers a wide selection of sunglasses to fit your fashion. We have hundreds of lens and frame combinations, and nearly every frame we offer can be paired with clear lenses for prescription glasses, tinted lenses for sunglasses, or combined for prescription sunglasses.
Browse Yellow Tinted Glasses & Sunglasses
The Benefits of Yellow Sunglass Lenses
Yellow tinted glasses are also referred to as amber or champagne. The shades of the yellow lens tints are uniquely stylish and beneficial. We offer yellow tinted prescription glasses to give our eyewear fans the ultimate glasses combination.
The color yellow for lens tins has become a wonderful fashion statement. We offer a variety of yellow lens tints, including light and medium in pure yellow and champagne in light, medium and dark. Champagne is our milder take on the color yellow and more comparable to ambler tints!
The Outdoor Benefits of Yellow Tints
Yellow lens tints can block harmful UV rays from the sun while providing enhanced depth perception for a brightened surrounding in overcast conditions. Many sports players, such as golfers and baseball players, prefer yellow to brown lens tints for help keeping their eyes on the ball. All tinted lenses by Yesglasses come with anti-scratch, anti-reflective and 100% UV protection properties.
The Indoor Benefits of Yellow Tints
While inside, yellow tinted glasses help enhance your vision by brightening your indoor surroundings. The brightness of yellow tinted glasses helps increase your depth perception so that if you walk into an indoor area with less natural light, your perception is enhanced. You can especially identify shades of red while wearing yellow tinted glasses. Not to mention, experiencing life through a bright color filter can be fun and refreshing for everyone.
Who Can Wear Yellow Sunglasses?
The great news is anyone can wear yellow sunglasses! They fit a wide variety of styles, and Yesglasses offers a huge selection of frames to go with yellow tinted lenses. Some eyewear fans may especially love the extra benefits from this lens color.
Athletes and eyewear fans who work outdoors can rely on yellow lenses to cut down on harmful UV rays from the sun. The enhanced visual clarity and depth perception that this lens color offers will also help to reduce eye strain.
Yellow tinted glasses are equally beneficial and fashionable for men and women. Sometimes when choosing your frame, it's a good idea to find your face shape so that you can take your selection a step further and compliment your feminine or masculine features. We offer men's yellow sunglasses and women's yellow sunglasses with many frames to choose from.
Yellow Prescription Sunglasses
For the perfect combination, consider yellow prescription sunglasses. Whether you prefer dark or light yellow tints, Yesglasses offers prescription lenses on all glasses and sunglasses!
In addition to prescription single vision sunglasses for tinted, gradient, mirrored and polarized lenses, we also offer special prescription sunglasses for gradient progressives, mirrored progressive and polarized progressive.
A light yellow lens tint paired with your prescription is a great idea if you'd like to wear your new glasses between indoor and outdoor environments. You will see clearly with your prescription glasses and gain the wonderful benefit of enhanced depth perception.
The Best Frames for Yellow Lenses
Yellow lens tints are a very creative style and if you see a frame you'd love to pair with your yellow lenses, follow your intuition! When it comes to choosing your frame and lens color, we recommend pairing yellow lenses with frames that either have other warm colors or a neutral color, such as black or white. If you prefer metal frames, then gold, bronze, and gunmetal go particularly well with yellow tints.
The Best Yellow Tinted Glasses
At Yesglasses, we offer light and medium tints for yellow as well as light, medium and dark for champagne.
Yellow Sunglass Lenses & Frames
For an iconic pop, we highly recommended shades of our pure yellow tinted glasses.
Champagne Sunglass Lenses & Frames
For a milder amber style, we recommend champagne lens tints.
Yellow Glasses by Yesglasses
Yesglasses carries a wide variety of eyeglass and sunglass frame materials and lens tints to best suit your needs, whether it be durability, material allergies, color or design. Explore our wide variety of yellow lens tints and see which best fits into your lifestyle! We are proud to bring you high quality glasses and sunglasses at affordable prices.
Browse Yellow Tinted Glasses & Sunglasses