Best Golf Sunglasses: Buyer's Guide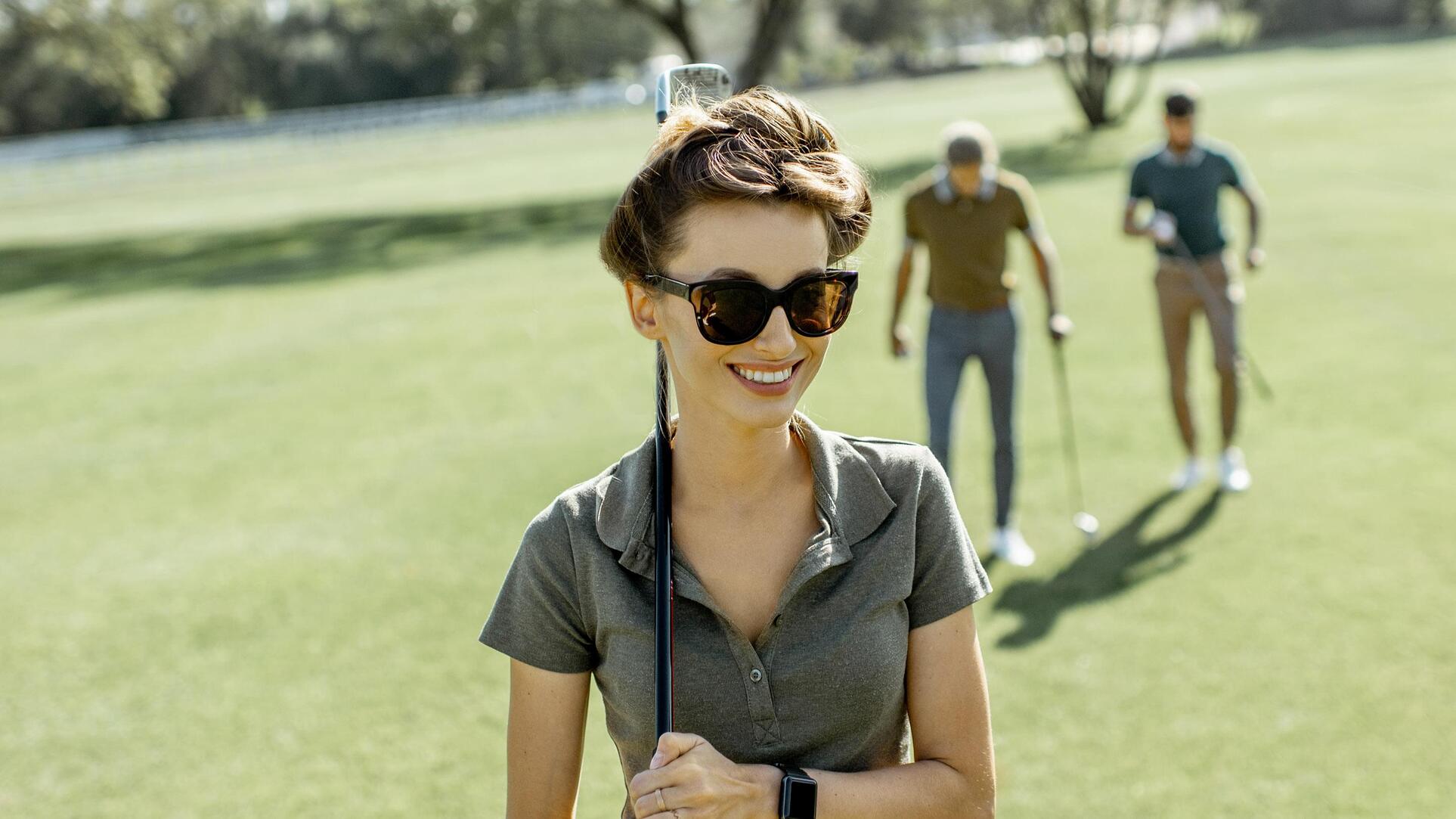 Best Golf Sunglasses: Buyer's Guide
Like a good set of clubs, a pair of sunglasses are essential to every golfer's game. Beyond protecting your eyes from harmful UV rays, the best golf sunglasses also give you an edge on the links.
With so many great sunglasses styles and lens types, how do you know what's right for you? Follow our buyer's guide and up your game with the perfect pair of golf sunglasses.
Why do golfers need sunglasses?
Golf is an outdoor sport that can be played in a variety of weather and lighting conditions. As a result, golfers deal with solar hazards including bright light, distracting glare, and disorienting reflections.
The right pair of sunglasses protects against these factors while providing UV protection. The end result is a safer, more enjoyable experience from tee to green.
What type of sunglasses are best for golfing?
Sports sunglasses overwhelmingly favor polarized lenses, and golf is no different.
Increased visual clarity and improved contrast are key features that make polarized sunglasses the golfer's choice. These perks can help you easily distinguish objects and keep track of your ball.
For those that already wear Rx lenses, prescription sunglasses are the perfect solution. Even if you don't have a prescription, both prescription and non-prescription lenses can be fitted for any frame.
Not sure about prescription sunglasses? See why prescription sunglasses are worth it.
Polarized sunglasses also offer effective anti-glare protection. This reduces glare from bodies of water and other reflective surfaces common to golf courses. In short, polarized lenses provide increased protection on bright, sunny days.
Of course, the enhanced contrast will help on overcast days, too. In any weather conditions, polarized sunglasses are the clear choice for the avid golfer or casual hobbyist.
One minor downside to polarized lenses is that they can be easily scratched. You can offset this with the right lens coating. An anti-scratch coating will protect your lenses and keep them at their best.
What color lenses are good for golf?
Brown or amber lenses are the best choice for golf. These colors provide an even bigger contrast boost, helping you keep track of the ball on fairways and roughs.
Brown and amber also contrast well with blue. This makes following your ball in the air on clear days easier, as well.
What are the best frame materials for golf sunglasses?
Since you'll be wearing a pair of shades for long hours during an 18-hole stint, you'll want something comfortable. Lightweight, durable materials are the ideal choice for golf.
How should golf sunglasses fit my face?
Knowing how to find your glasses measurements will help you get the right fit for your golf sunglasses. You'll want them to fit snugly on your face but not be too tight. This will keep them from falling off while still feeling comfortable.
The best shapes for golf sunglasses for both men and women include aviator, rectangle, and square frames. You can also opt for rimless or semi-rimless options.
To find the style that fits you best, try our online face shape tool. Knowing your own face shape will help you find the frame styles that look best on you.
What sunglasses are recommended for golf?
Here are some of our own recommendations for the best golf sunglasses.
Keep it on the fairway with golf sunglasses from Yesglasses
A great pair of golf sunglasses keep your eyes protected and can even enhance your game. At Yesglasses, we have a huge selection of frame styles and materials to choose from. Best of all, we design and produce all of our own frames, allowing you to save big on high-quality eyewear.
Once you find a pair of golf sunglasses, what about eyewear for work? Round out your needs with our guide to computer glasses.