Mountain Biking Sunglasses: Buyer's Guide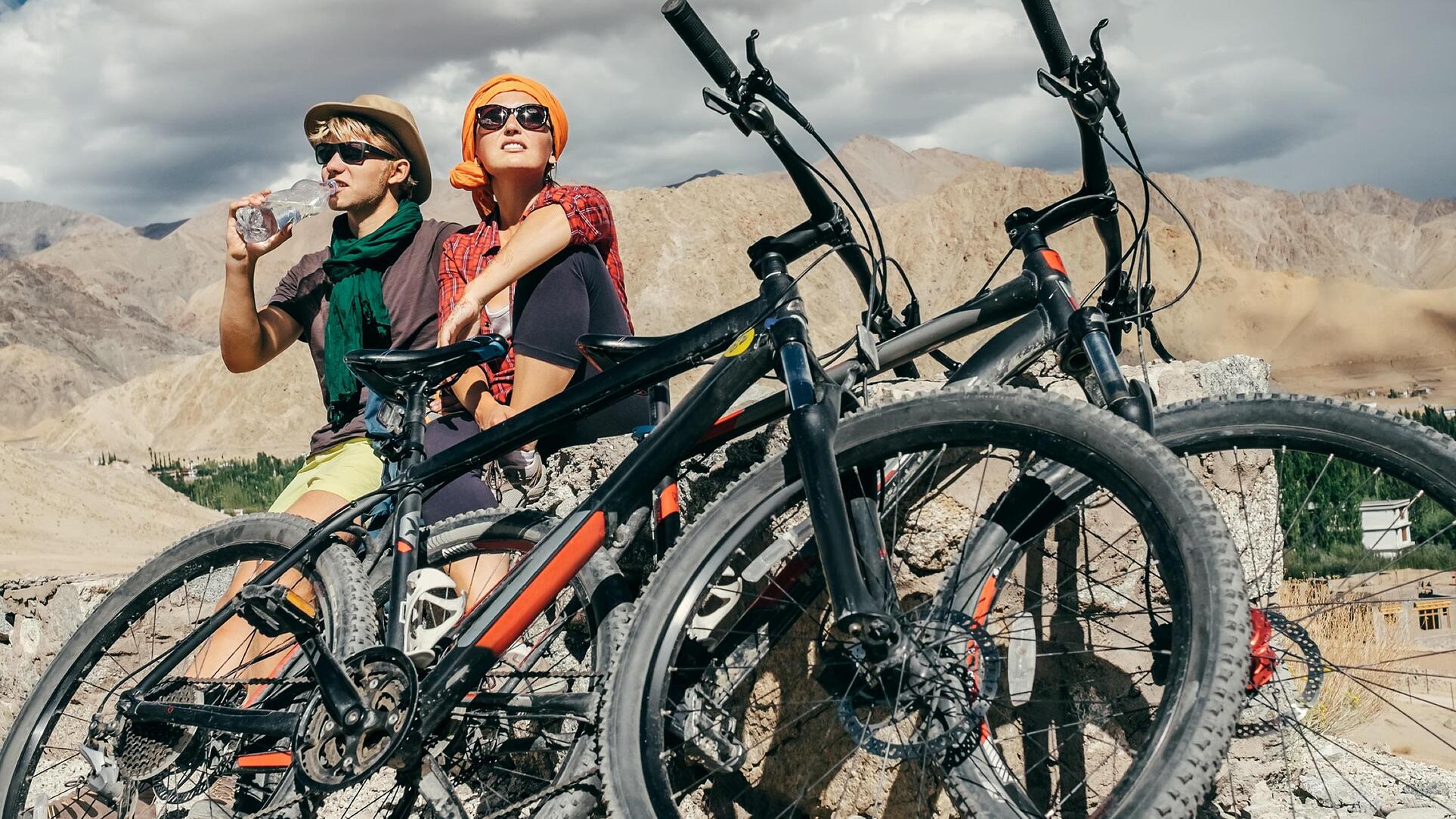 Mountain Biking Sunglasses: Buyer's Guide
Your bike and helmet are the main focus when it comes to mountain biking, but protective eyewear is important, too. A good pair of sunglasses protects from harmful UV rays while keeping dust and debris from getting in your eyes.
You have plenty of choices when it comes to sunglasses styles, but which are the best for mountain biking? Our buyer's guide will put you on the right path!
Do you need sunglasses for mountain biking?
Absolutely! Akin to other outdoor sports, sunglasses are essential for mountain biking. Riding along trails naturally kicks up irritants that can get into your eyes, so keeping them protected is a must. Sunglasses keep your vision clear so you can read any twists and turns in the path ahead.
They also protect you from harsh sunlight and blinding surface reflections. Most sunglasses nowadays block UV rays, and certain lenses enhance color and contrast, providing a better view of your surroundings.
What type of sunglasses are best for mountain biking?
Several types of sunglasses are beneficial to the avid mountain biker.
Polarized sunglasses are a popular choice for many outdoor sports. These lenses are best at blocking glare from water, snow, and other reflective surfaces. They also work well in low light conditions since they increase contrast. Likewise, they're perfect for bright, sunny days.

Mirrored sunglasses are great for more open spaces. Just like polarized lenses, they are also effective at blocking glare. They are especially useful for winter rides when reflections from snow and ice might become an issue.

Tinted sunglasses make an excellent choice for mountain biking. Combine them with an anti-glare lens coating for even more protection.

Medium tints will serve you well on sunny days.
Light tints are perfect for shady trails and overcast days.
Dark tints are generally not recommended for mountain bikers, especially on forested trails.
Want even more info on lens types? Find out the differences between polarized and non-polarized sunglasses!
What sunglasses shapes are best for mountain biking?
As far as shape goes, wraparound or visor frames will benefit you the most. These styles will give you a wider field of view, greater coverage for your peripheral vision, and will also fit better while wearing a helmet.
Goggles are best for endurance or downhill courses. In these situations, you'll be wearing a full-face helmet, so goggles are really the only option.
What color lenses are good for mountain bike glasses?
Fun fact: Lens color actually changes how you see the world through your sunglasses. Some colors offer more benefits than others when it comes to mountain biking.
Brown and amber lenses are good for sunny days. These lenses enhance greens, helping you see shrubbery or low-hanging leaves that may be in your path. Brown and amber lenses also increase color contrast and improve depth perception.
Red lenses are a perfect choice for overcast days. They brighten and enhance other colors.
Yellow and gold lenses enhance your vision in foggy conditions. These lenses are best for those who prefer to ride in the early morning, when fog is most likely to linger.
Clear lenses keep your vision clear, also protecting your eyes in rainy conditions. They are also among the best lens options for night riding.
Still can't decide? Get more tips on how to choose your frame and lens color
What are the best frame materials for mountain biking sunglasses?
You'll want a durable, lightweight frame for mountain biking sunglasses.
Plastic eyewear is among the best options for mountain biking sunglasses, especially ones made from polycarbonate, nylon, and polyurethane materials. They provide a lightweight and dependable option and are less likely to break in the event of a fall.
Ultem frames are made from polyetherimide (PEI) and are extremely flexible. They also feature adjustable nose pads, making them adaptable and comfortable.
TR90 glasses also provide a flexible and durable option for mountain biking sunglasses. This material can be twisted and bent and still retain its shape and fit.
Metal frames are not recommended. Even lightweight options like titanium can be dangerous or damaging to your eyes during a fall. Reduce the risk and choose from the plastic materials listed above.
How should mountain biking sunglasses fit my face?
Choose a pair of mountain biking sunglasses that fit snugly around your ears and settle comfortably on your nose. Knowing how to read your glasses measurements will help you make the best choice when it comes to fit.
Leave enough space between your brow and lenses so air flows smoothly and sweat doesn't accumulate. Avoid leaving too much space, though. This can allow dirt and debris to collect on the inside of your lenses and possibly get in your eyes. It's all about finding the right balance.
Save yourself time! Use our online face shape tool to find your face shape and see what styles will look best on you!
Stay on course with mountain biking sunglasses from Yesglasses!
Having the right pair of sunglasses can keep your eyes protected and make your mountain biking journey safer. Let us help you find the perfect pair with our large selection of frame materials and styles. Find the right fit at a great price with Yesglasses!
Looking for more outdoor sports sunglasses? Check out our hiking sunglasses buyer's guide.