How To Choose Glasses For Triangle-Shaped Faces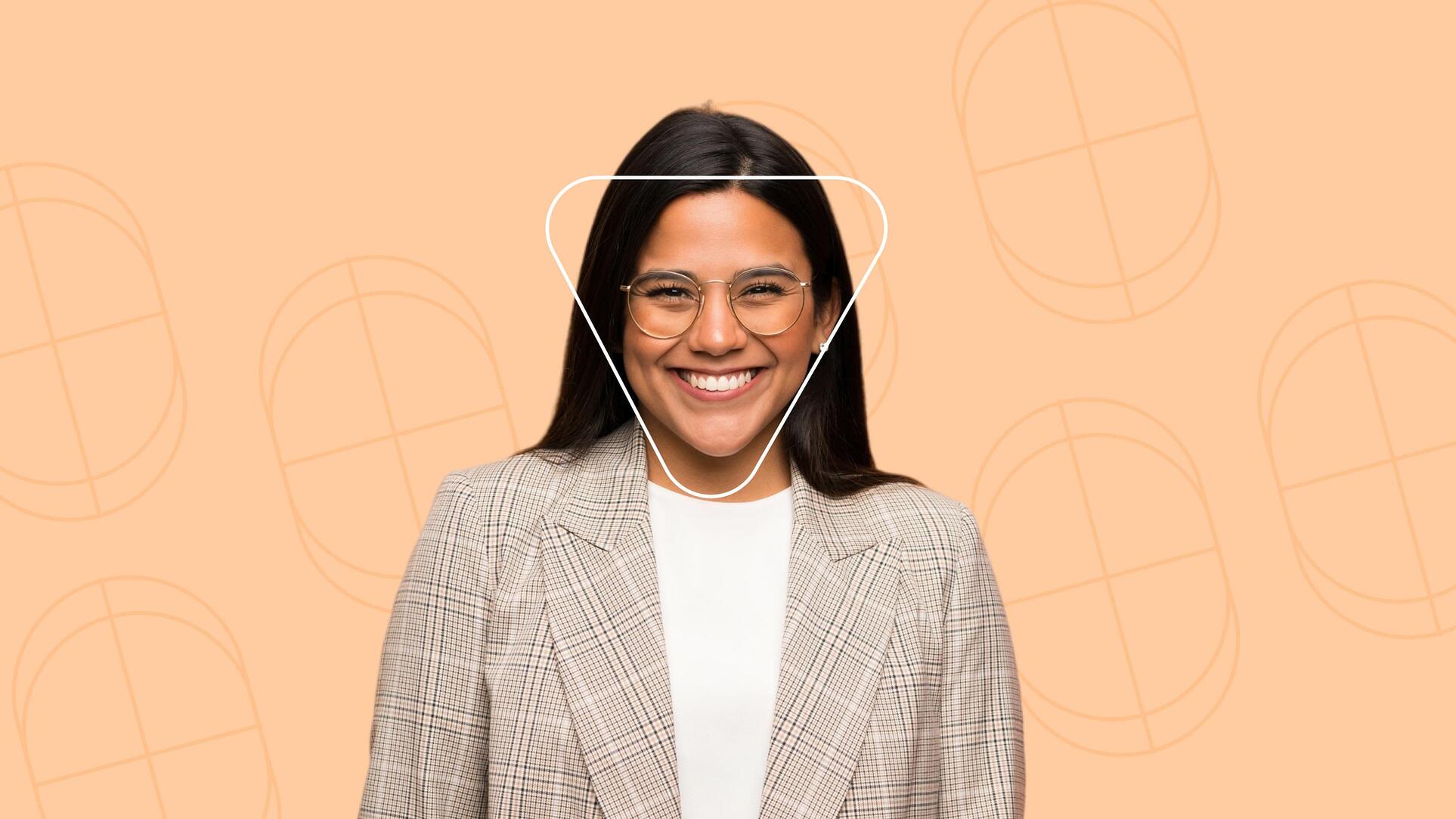 How To Choose Glasses For Triangle-Shaped Faces
Commonly referred to as the "triangle shape," inverted triangle-shaped faces are charming and unique. Widest at the forehead and narrow at the chin, inverted triangle faces can make choosing the best glasses feel like a challenge.
If you want glasses that complement your facial features, this triangle face shape glasses guide can help. We make it simple to pick out eyewear that accentuates the unique characteristics of people with a triangular face shape.
How do you know if you have a triangle-shaped face?
At Yesglasses, we refer to the inverted triangle when talking about triangular face shapes. However, we often use "inverted triangle" and "triangle" interchangeably. With an inverted triangle face shape, you'll have a wider forehead as the width of your face tapers down to a smaller chin.
Inverted triangle-shaped faces are similar to heart-shaped faces.
The difference? Heart-shaped faces have similar widths for their foreheads and cheekbones. Meanwhile, triangular faces have slightly slimmer cheekbones.
If you're unsure about what kind of face shape you have, try our face shape recognition tool.
What are the best glasses for triangle-shaped faces?
Inverted triangle-shaped faces benefit from glasses frames that tone down the wideness of the forehead. You'll also want to focus on rounder shapes that contrast with your more angular chin and jawline.
The thickness of the frame is another point to consider. We suggest a thin wire or thin plastic frame, no matter which frame shape you choose.
When shopping for the best glasses for triangle face shapes, keep these styles in mind:
All the below recommendations apply to both regular eyeglasses and sunglasses for inverted triangle-shaped faces.
Square Glasses
Square frames with rounded edges contrast with the more pointed chin of inverted triangle-shaped faces. These glasses will also balance your proportions, creating harmony between the upper and lower segments of your face.
Stick with thin-wire frames to highlight and draw attention to your eyes. A thinner plastic or acetate frame is also recommended.
Cat-Eye Glasses
Cat-eye frames offer sweeping angles that actually work well for people with wide foreheads. The pointed corners and usually rounded bottom of the frames offer a unique complement to your facial features.
As with all recommendations for inverted triangle-shaped faces, choosing thinner frames is your best bet to balance your proportions.
Aviator Glasses
Aviator frames look good on almost any face shape. They also never go out of style, making them a great choice if you have a triangle-shaped face. The aviator's signature teardrop design naturally pulls focus away from the wider top portions of your face down to the narrower jawline.
Look for thin wire or plastic frames when shopping for aviator glasses.
Round Glasses
Round frames offset an angular chin and balance the dimension of an inverted triangle-shaped face. As with all of our recommendations up to this point, choose a thin frame and you can't go wrong.
Rimless Glasses
Rimless frames are the perfect complement to inverted triangle-shaped faces. We've said it before, and we'll say it again:
Thin frames are best for this face shape, and it doesn't get much thinner than no frame at all!
If you choose rimless glasses, round and circular shapes will likely suit you best.
Want more tips for picking out eyewear? See our guide to choosing the best prescription glasses.
What glasses should I avoid with a triangle-shaped face?
Trapezoid and browline glasses are not good fits for people with inverted triangle-shaped faces. You want to avoid any frames that draw too much attention to your forehead.
Also, stay away from sharp, angular shapes, such as geometric and rectangle frames. These styles will also draw extra attention to the upper portions of your face without balancing out your chin and jawline.
However, sometimes thinking outside the box produces wonderful results. These are more guidelines than hard rules. Don't be afraid to try out any style that catches your eye. Everyone's face is different, and you just might find that an outlier matches your features perfectly.
Find the best frames for triangle-shaped faces at Yesglasses
Inverted triangle-shaped faces are striking and unique. While finding the perfect pair of glasses can seem daunting, it doesn't have to be. We offer a huge selection of styles, colors, and shapes for any face shape. Whether you're looking for glasses or sunglasses, find it all at Yesglasses.
Shop Glasses For Triangle-Shaped Faces
Find out how frame colors can change your look! Check out our glasses color guide