How To Choose Glasses For Heart-Shaped Faces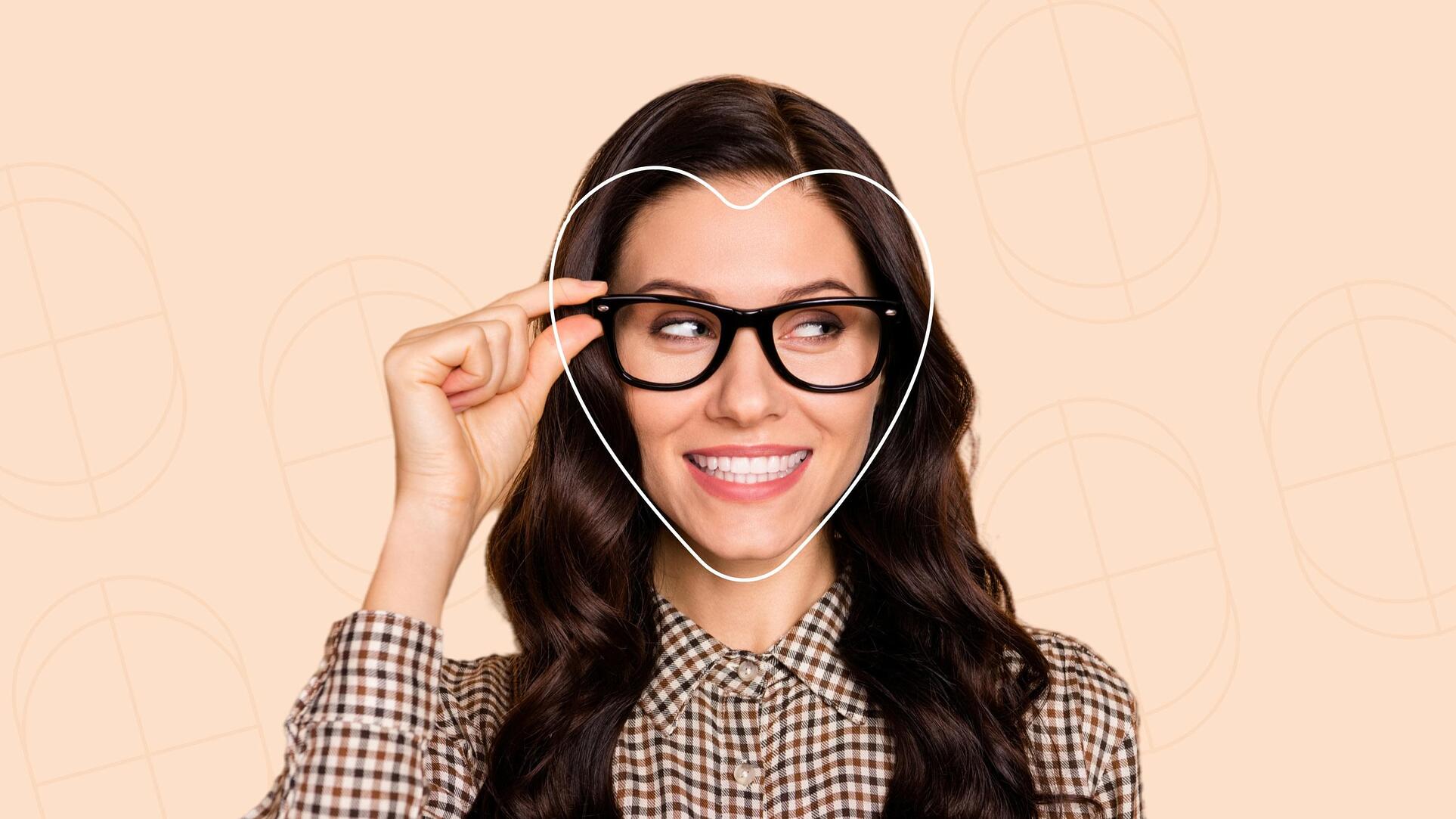 How To Choose Glasses For Heart-Shaped Faces
The heart face shape is one of the more unique face shapes a person can have. Those with a heart-shaped face typically have a broad forehead and pronounced cheekbones. These facial features contrast with a slim jawline and narrower chin.
The result is a striking, yet elegant appearance that, at times, makes it harder to find suitable eyewear.
Luckily, once you know what to look for, choosing glasses for heart-shaped faces can be simple. We've put together this guide to help you find the best glasses frames for a heart-shaped face.
How do you know if you have a heart-shaped face?
Heart-shaped faces usually have a wider brow and more angular chin. They also tend to include wider, more pronounced cheekbones. You have both curves and angles, as opposed to other face shapes that only deal with one of those traits.
While distinctive, heart-shaped faces can sometimes look similar to round faces. To be sure of your face shape, use our face shape detector.
What are the best glasses for heart-shaped faces?
Heart-shaped faces benefit from glasses that draw focus to your eyes and soften features at the bottom of your face. This balances the wider top portion with your more angular chin. Glasses that flare out wider than your forehead with a rounded bottom also balance your face and highlight your best features.
Here are the best glasses frame shapes for heart-shaped faces:
The following recommendations can be used for both regular eyeglasses and sunglasses for heart-shaped faces.
Oval Glasses
Oval frames provide contrast to the angles of your chin while also drawing attention to your eyes. These glasses also highlight your cheekbones. If you're feeling bold, you can even go for an oversized style and take your curves to a new level.
Aviator Glasses
Aviator frames offer a classic look that never goes out of style. The signature teardrop design of these glasses gives you the perfect way to accentuate your cheeks. The curvy look also contrasts with angles in the lower portion of your face.
For a heart-shaped face, choose a thin, metal frame that highlights your eyes.
Cat-Eye Glasses
Cat-eye frames complement heart-shaped faces with their unique shape. The flick of the frame draws your attention up and outward, adding curvy, bold lines to your features.
Butterfly Glasses
Similar to cat-eye frames, butterfly frames complement heart-shaped faces with their wing-like shape. Butterfly frames are naturally oversized and wider, which helps minimize a wider brow or forehead.
Semi-Rimless Glasses
Semi-rimless frames bring attention to your browline while the nearly invisible bottom of the frame helps soften your angles. Go for a pair that is slightly wider at the temples to downplay the width of your forehead.
Round Glasses
Round frames bring symmetry to your features. These glasses are usually as wide as they are tall, which offsets the asymmetry of heart-shaped faces.
Two-Tone Glasses
Two-tone frames with a lighter color on the bottom work wonders for heart-shaped faces. Similar to how the shapes of the frames above contrast your features, these frames will do it with color!
Learn more about how colors complement your style with our glasses color guide!
What glasses should I avoid with a heart-shaped face?
As a rule of thumb, those with heart-shaped faces should avoid square glasses and rectangular frames. Instead of complementing your curves, these shapes add more angles to your face.
Experimentation sometimes brings bold results, though. You may find that these frames actually work for you. Just because square and rectangle frames generally aren't recommended, that shouldn't stop you from giving them a try!
Find the best frames for heart-shaped faces at Yesglasses
No matter your face shape, Yesglasses can help you find the perfect pair of glasses to highlight your wonderful features. We have hundreds of unique frame styles for both glasses and sunglasses. Celebrate your individuality and show off your fashion sense!
Shop Heart-Shaped Face Glasses
Want more glasses-buying knowledge? Learn all about choosing the best prescription glasses.