How to Choose Glasses for Heart Shaped Faces
How to Choose Glasses for Heart Shaped Faces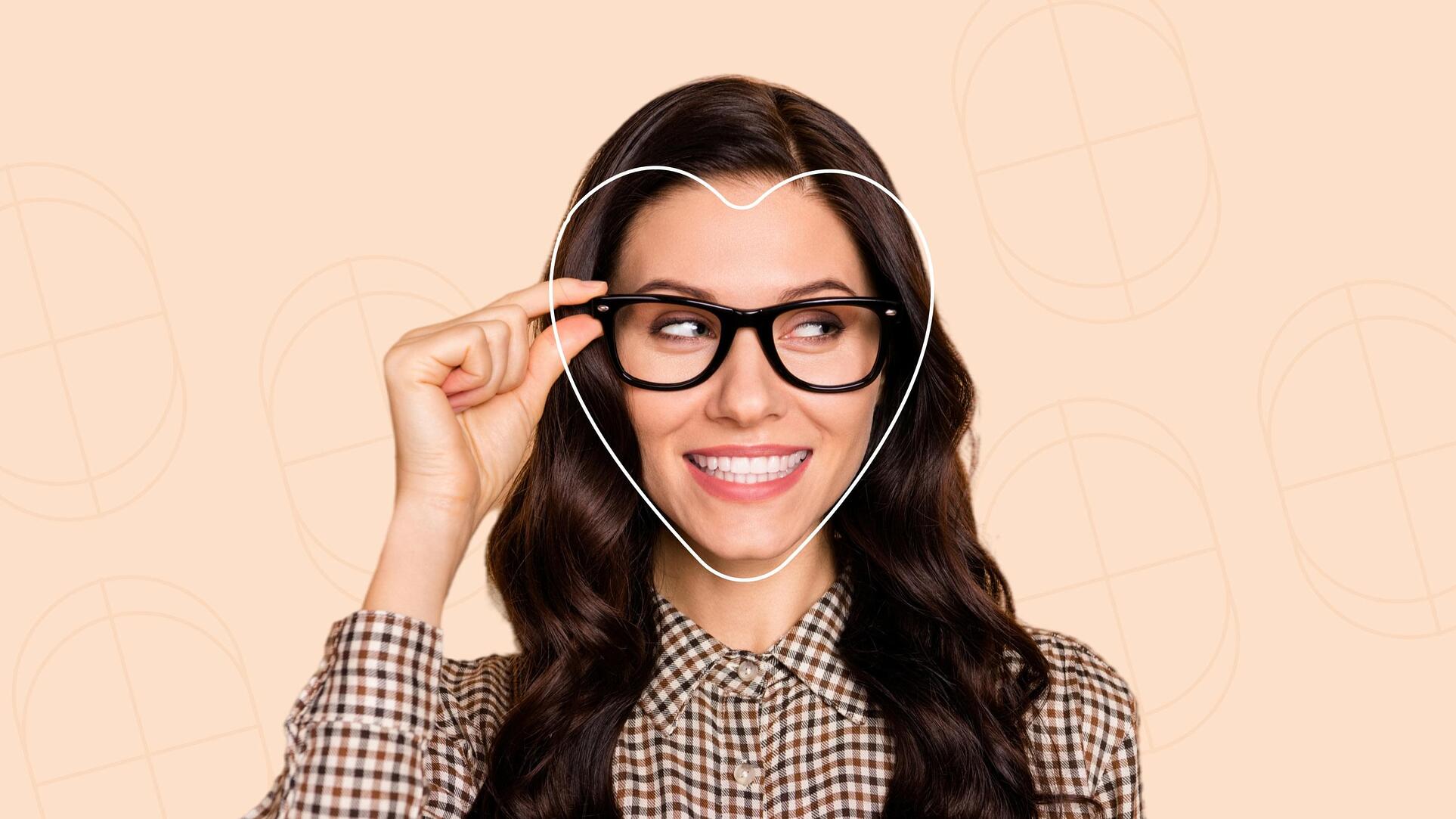 Heart face shapes are one of the most unique face shapes, easily complimented with most frames. Because the heart shape is one of the most versatile face shapes, there is a wide variety of frame shapes and styles to choose from!
Yesglasses offers hundreds of eyewear styles for men and women in a variety of quality materials and unique frame shapes. Look no further for your next stylish frame.
Find Your Face Shape
What shape glasses look best on a heart shaped face?
Heart shaped faces benefit from frames with a cat eye shape or rounded frame to balance and complement their features. Your face shape is its widest at your brow, and narrows down to your chin, so glasses that flare out a bit wider than your forehead and have a rounded bottom balance your face and highlight your beautiful facial features.
When browsing for eyewear for heart shaped faces, look for glasses with the following features:
Cat eye or butterfly shaped frames that flick outward to a point help balance the proportions of a heart shaped face.
Oval-shaped frames soften your sharp facial features, especially if you have a pointier chin.
Frames that place more emphasis on the bottom portion of the frame like aviators create an illusion of a wider chin and symmetrical facial structure from top to bottom.
As you can see, you have one of the most diverse selections when it comes to complimentary frames. If you have a more subtle difference in the width of your brow compared to the narrowness of your chin, you can opt for a more subtle cat eye or butterfly frame. Below we have chosen some of our favorite frames that will perfectly compliment your heart shaped face, whether you are looking for an everyday pair of eyeglasses, blue light glasses, or sunglasses!
The Best Glasses for Heart Shaped Faces
Cat Eye Glasses for Heart Faces
Cat eye frames compliment heart face shapes with their unique shape and ability to compliment the heart shaped face. The flick of the frame draws your attention up and outward, following the shape of your face frame, yet drawing your attention to the frame itself. Check out some of our favorite eye-catching cat eye frames below!
Butterfly Glasses for Heart Faces
Similar to cat eye frames, butterfly frames compliment the heart shaped face with their wing-like shape. Similar in shape, you'll find the butterfly frames to be a bit more oversized and wider which will assist in minimizing the look of a wider brow or forehead. Take a look at some of our favorite butterfly frames below!
Oval Glasses for Heart Faces
Oval frames are great for softening any sharp features, such as a pointed chin. When looking for an oval frame, make sure to look for the wide oblong shape, as a rounded frame will not provide the same softening effect an oval frame will. Check out these classy oval frames that are sure to compliment not only your facial features, but your entire look!
The Best Sunglasses for Heart Shaped Faces
Heart shaped faces not only look great with most eyeglass frames, but they also provide a great complementary shape to the famous aviator and cat eye sunglasses. Check out some of our absolute favorite sunnies to sport with your heart shaped face!
About Yesglasses
Yesglasses is proud to bring you high quality frames, at an affordable price. Unlike other brands, we offer free 1.61 hi-index lenses with every pair of frames, along with free anti-reflective and anti-scratch coatings.
Browse All Styles