Best Hiking Sunglasses: Buyer's Guide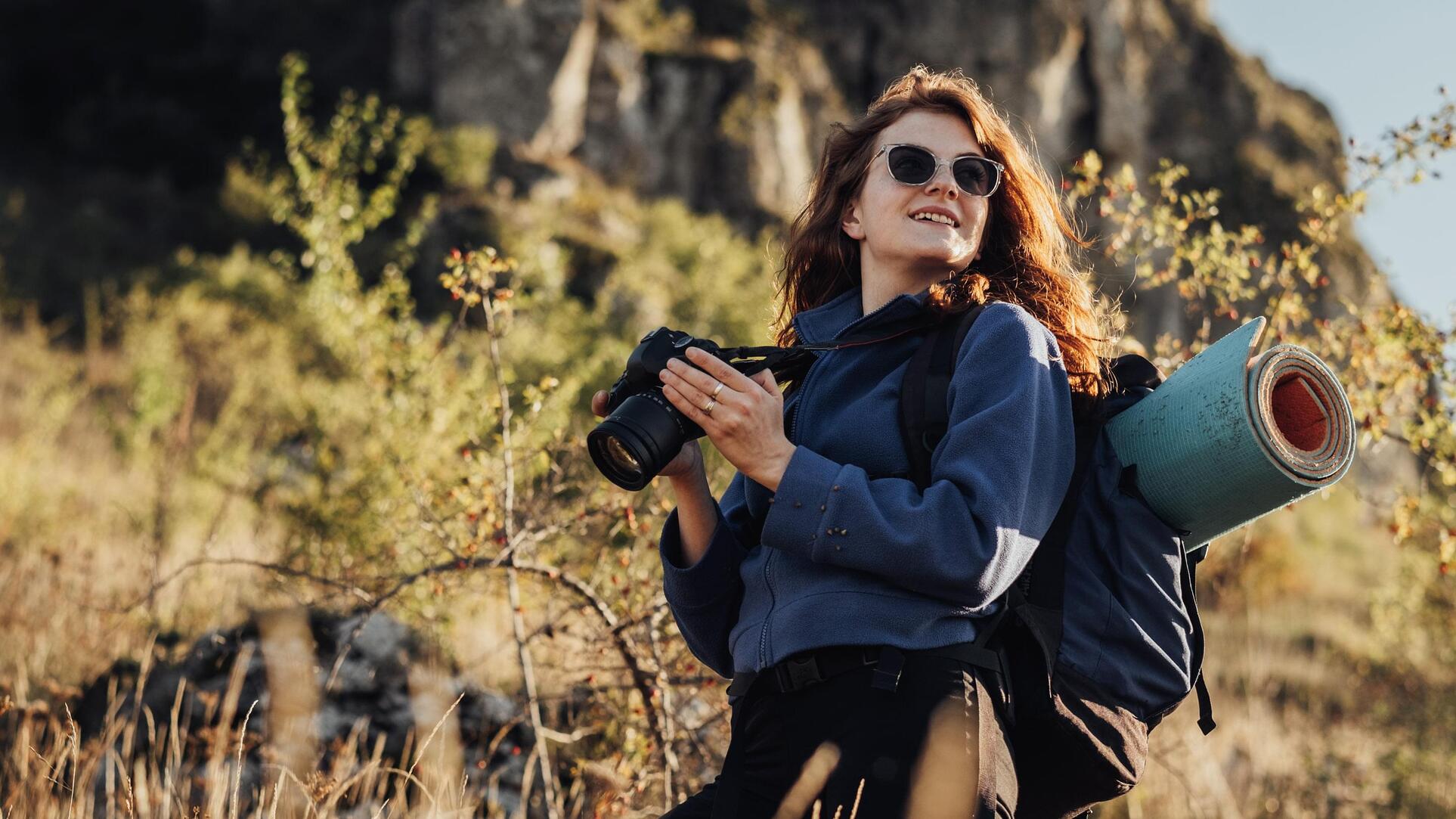 Best Hiking Sunglasses: Buyer's Guide
Hiking sunglasses make it easier to take in the wonders of the natural world. The right pair of sunglasses will protect your eyes while helping you focus on the path ahead.
Whether you need prescription or non-prescription lenses, a pair of hiking sunglasses is a must for any fan of the outdoors.
What kind of sunglasses are best for hiking?
Polarized sunglasses are the best choice for many sports and outdoor activities, including hiking.
They are especially useful thanks to their excellent anti-glare properties. This will shield your eyes from direct sunlight and harmful glare coming from reflective surfaces. If your hike takes you near any bodies of water, polarized lenses provide essential protection.
Increased visual clarity is another benefit of polarized lenses. Sunglasses that don't distort your view will make for a more enjoyable hiking experience.
Interested in more info on how polarized lenses compare to alternatives? We've got a guide on polarized vs. non-polarized just for you!
What features do I want in hiking sunglasses?
You'll want frames that are comfortable to wear for long hours. The best hiking glasses are also lightweight and durable.
Finally, pay attention to the lens color you choose for your hiking sunglasses. Different lens colors provide different benefits, and there are a few that are perfect for hiking.
What are the best lens colors for hiking?
Brown or amber lenses make a great choice for hiking. These lenses boost contrast, giving you a heightened view of the world around you.
Gray lenses provide a more true-to-life color experience. They are also an excellent choice on both sunny and cloudy days.
Both of these color choices will give you strong anti-glare protection and 100% UV protection, as well. Really, you can't go wrong with either.
To summarize:
If you want a more enhanced color experience, choose amber or brown.
If you are looking for a more natural view of the world, choose gray lenses.
What are the best frame materials for hiking?
Lightweight frame materials are the best choice for hiking sunglasses. You'll most likely be wearing your shades all day, so you'll want something that won't cause discomfort or irritation.
For those who like metal glasses frames, Titanium is a lightweight and sturdy material. These frames are also corrosion and impact resistant.
Shop Titanium Glasses Frames
Aluminum-magnesium alloy frames are also well-suited for hiking. These frames provide the same toughness and corrosion resistance. They'll stand up against sweat damage, too!
Shop Aluminum Glasses Frames
Meanwhile, both TR90 and Ultem are terrific choices for those who prefer plastic frames. These lightweight materials are also bendable, making them extremely resilient.
Unlike regular plastic or acetate frames, heat has much less of an impact on these materials. That means you won't have to worry about them coming out of shape or losing their fit.
You can give your polarized lenses even more protection with the right lens coating. Try anti-scratch lenses for a durability boost.
How should hiking sunglasses fit my face?
Sunglasses with a proper fit will stay on your face while hiking, and they'll feel more comfortable to wear. Knowing your glasses measurements will help you find your frame size and makes it even easier to order your next pair online.
Beyond the right fit, you'll also want something that looks good on you. If you're having trouble, check out our online face shape tool to get recommendations for frames that will fit you best.
What are the best hiking sunglasses for men?
Aviator frames are always a popular choice for men's sunglasses. Rectangular frames are also great for guys who prefer wider lens coverage.
What are the best hiking sunglasses for women?
Aviators, cat-eye, and square frames are some of the most popular hiking and outdoor styles for women.
Enjoy the great outdoors with hiking sunglasses from Yesglasses
Now that you know polarized lenses are the best choice for hiking sunglasses, it's time to find the perfect pair. Start by browsing our large selection of prescription and non-prescription styles. We know we have something you're sure to love.
If you're interested in the best prices for the best hiking sunglasses, you've come to the right place. We buy eyewear directly from manufacturers. This saves customers like you as much as 70% of regular retail cost!
Have you considered prescription sunglasses? Learn why prescription sunglasses are worth buying.