Best Lenses for the Fall: Gradient Lenses & Autumn Tints
Best Lenses for the Fall: Gradient Lenses & Autumn Tints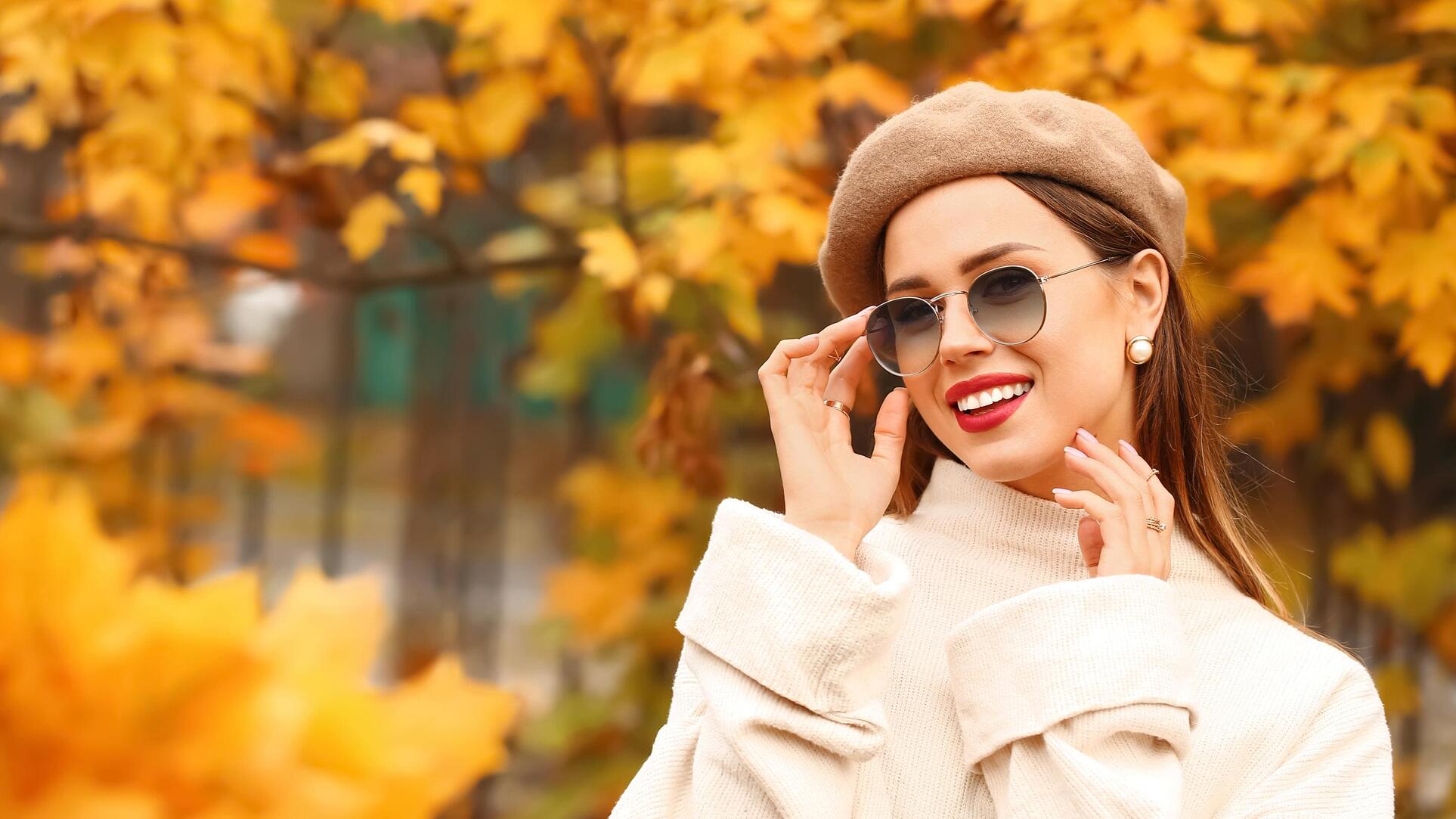 Did you know that as the seasons change, so should your eyewear? We're all familiar with the protective benefits of polarized sunglasses in the summer, but what about the protective benefits of gradient lenses and tinted sunglasses in the fall months?
During the fall, the sun is at a lower point in the horizon creating a "flat light", which means the sun is lower to eye level and dimmer, causing less intense contrast in lighting. Weather conditions like wind and rain become more frequent, causing us to seek eye protection on our daily strolls. The perfect eyewear for this fall weather should have a gradient or beautifully tinted lens.
Let's look at the benefits and uses of both gradient and tinted sunglasses below to help you elevate your fall fashion look.
The Perfect Gradient Lenses for Fall
Gradient lenses are perfect for indoor and outdoor use in the fall. They provide protection against less intense UVA/UVB rays, while also allowing for visibility while indoors. Gradient lenses work by limiting the intensity of glare from the sun for driving during the dawn or twilight hours, while still giving you the option to look through a lighter part of the lens for indoor use.
Looking for the perfect gradient lens to take you through the fall? With so many options, we wanted to share some of our favorites that are perfect for both men and women!
Mufasa

Billie

Melanie

Board
Tinted Sunglasses for Autumn
Looking for a little more color? Tinted sunglasses provide all the protection of gradient sunglasses, with fully-colored lenses for added UVA/UVB protection. Colors such as yellow, pink, red, green and grey are some of our favorite autumn tints, and each come with added benefits during certain conditions. Not convinced? Let's look at a few of our favorite tinted lenses for fall below!
Yellow Tinted Sunglasses
Ideal for low-light conditions, allowing for an enhanced view early in the mornings and evenings when the days are much shorter and sunlight is less intense. Get the look of a fashionable yellow tint with Stoltz or Sparks.
Pink or Red Tinted Sunglasses
Looking for a pair of tinted sunglasses for everyday wear, no matter the conditions? Pink or red lenses give the best visibility during fall's unpredictable weather, rain or shine. Brighten up any gloomy day with these rosey sunnies.
Green or Gray Tinted Sunglasses
Enhance the colors around you with a green or grey tinted lens. These lenses will take you from dawn to twilight, and everything in between. Unlike red or pink lenses, green or grey will do particularly well during brighter days, reducing glare and enhancing overall eye comfort.
Now that you've learned about the benefits of gradient and tinted lenses during the fall, there's no reason to let your eyes stop you from experiencing the beauty of autumn. Take in the colors of the fall leaves while knowing your eyes are protected by our high quality lenses, all at an affordable price.
About Yesglasses Colored Lenses
Autumn light can be even more damaging to our eyes than the summer sun if your eyes are not protected properly. Trust Yesglasses to protect you and your family's eyes all year long with our high quality, affordable gradient and tinted sunglasses!