Skiing & Snowboarding Glasses: Buyer's Guide
Skiing & Snowboarding Glasses: Buyer's Guide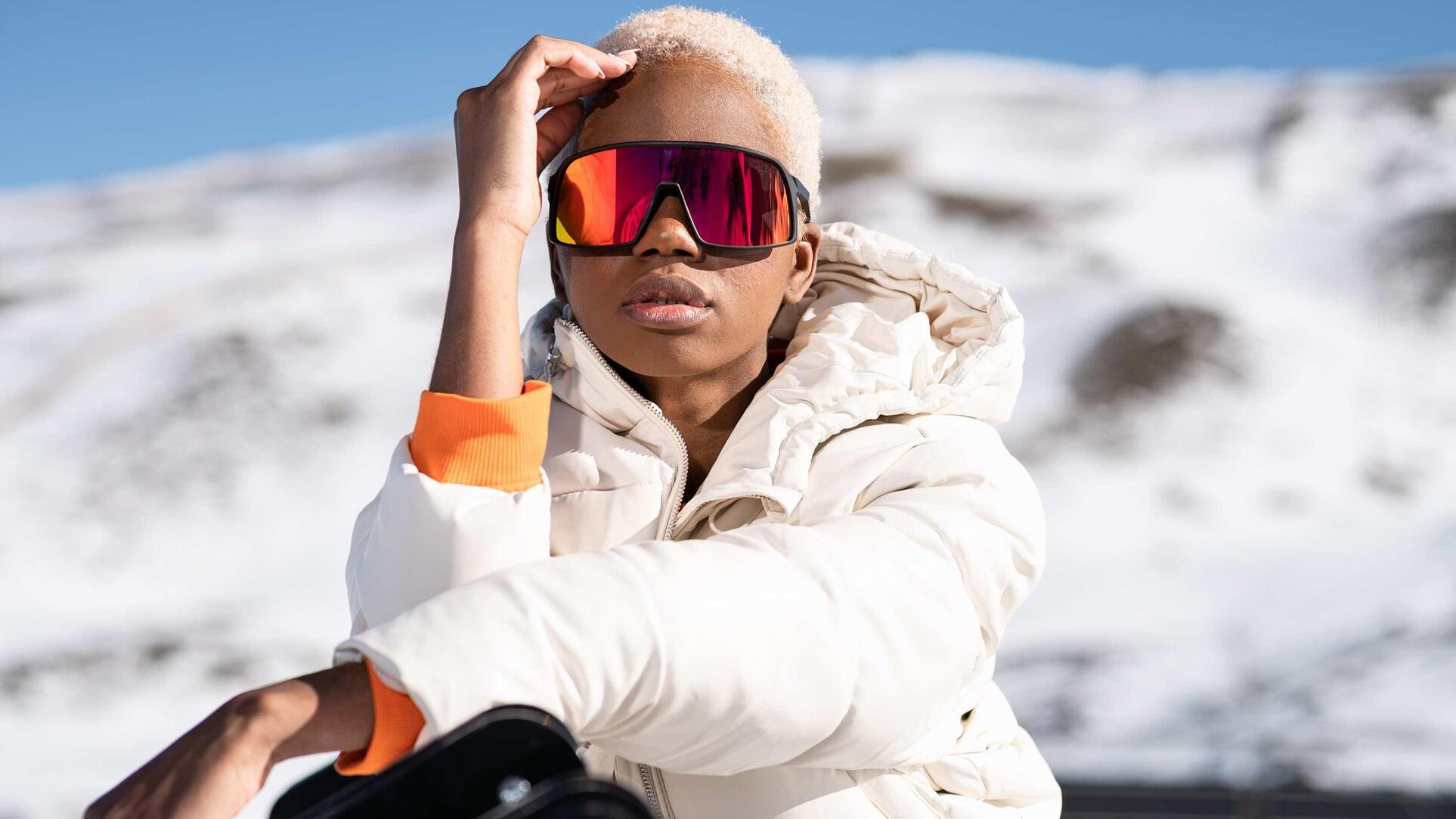 Before you go skiing or snowboarding, make sure you've got all the essentials…
Boots, hat, coat, and gloves? Check!
Skis or snowboard? Check!
But what about eyewear?
When it comes to winter sports glasses, you have plenty of options to choose from. In this guide, we'll teach you what to look for in the best eyeglasses and sunglasses for skiing and snowboarding.
Why do skiers and snowboarders wear glasses?
Since skiing and snowboarding are outdoor sports, keeping your eyes protected from harmful UV light is a must. On top of that, snow and ice can produce harsh reflections that are practically blinding, especially on clear, sunny days. This can lead to crashes and accidents that may result in serious injury or worse.
Your eyes need protection from more than just UV rays, though. Falling snow can cause eye injury, especially when you're picking up speed down the slopes. Even without precipitation, snow and ice frequently get kicked up from the ground by other skiers and yourself.
The wind is another factor to consider. Clear vision helps you stay alert and safe. Keeping your eyes protected from strong gusts of wind is an exceptional reason to wear glasses while skiing or snowboarding.
Can you ski or snowboard with glasses instead of goggles?
Yes, you can! An alternative to goggles, some people prefer wearing standard sunglasses while skiing or snowboarding. This is especially common when the weather is clear.
Wearing sunglasses is often a more comfortable fit than a pair of ski goggles. If your skiing glasses fit right, you'll feel less distracted and more likely to wear them, keeping your vision protected.
Luckily, finding that "just right" fit is easier than ever. Try out our face shape tool and discover how knowing your face shape can help you pick the right frames.
Naturally, you'll also want lens coatings that protect you from reflections and glare while on the mountain.
What color lens is best for skiing and snowboarding?
The best colors for skiing and snowboarding are blue, green, fire red, and silver. The color you choose depends on your personal needs and preferences.
What type of lens is best for skiing and snowboarding?
Mirrored sunglasses are the best option for skiing and snowboarding. Mirrored lenses deliver outstanding anti-glare protection. The lenses are also durable, making them a perfect choice for outdoor winter activities. Mirrored ski and snowboard sunglasses give you a brighter field of view by reflecting light, offering superior visual clarity.
Mirrored lenses come in all of the colors listed above, so you have plenty of options to choose from. Browse our mirrored sunglasses collection and find the frame that fits your style.
Top Picks: Skiing & Snowboarding Mirrored Sunglasses
Lemon

WALL-E

58076

Bowtie
Can you ski or snowboard while wearing prescription glasses?
If you still want the protection that goggles provide, goggles that can be worn over glasses are ideal. Over-the-glasses goggles (or "OTG goggles") enable you to wear your prescription glasses while skiing or snowboarding. These special types of goggles feature cutouts in the foam to allow glasses frames to fit underneath.
Most brands feature a mirrored visor with UV protection that reduces glare and keeps your eyes safe. Once you've found a pair of over-glasses goggles you like, pair them with prescription eyeglasses from Yesglasses!
Shop All Prescription Eyeglasses
Hit the slopes with the best winter sports eyewear from Yesglasses!
A pair of mirrored ski sunglasses will keep your eyes well-protected from sun or snowy conditions while skiing and snowboarding. A pair of prescription sunglasses will serve you even better, allowing for the clearest vision possible.
Check out our huge collection, order online, and get out on the mountain sooner!
Shop All Mirrored Sunglasses
Want more winter glasses options? Find out how to choose the best lens tints and frames for winter.